Cutting Trees At Chesterfield Gas Compressor Station Site Sparks Public Outrage
Williams Blows Off USFWS Concerns Over Breeding Migratory Birds
Christie DEP failing to enforce stream buffer, clean water, and wetlands standards
Activists present at site since Monday – "Occupy" actions on horizon
Activists have been present at the site almost continuously since Monday morning – public awareness and opposition are building. There is a piece of land adjacent to the compressor station site that is owned by Chesterfield township that would make a great place to Occupy.
Late yesterday afternoon (3/29/17) Williams began cutting trees at their Chesterfield compressor station site, over the objections of conservationists and US Fish and Wildlife Service biologists.
Despite expert sightings of breeding migratory birds, the company defied USFWS recommendations and proceeded at risk – meaning that should such habitat be discovered after the fact, they will face a slap on the risk by USFWS for "incidental take" – a minor cost of doing business.
[Update: Burlington County Times reports that FERC was involved – more FERC-ing off by the misguided Rethink NJ folks who parachuted in at the last minute and waste local resources. How many times do they have to fail before people stop listening to them?]
Or, as I suggested, a Hail Mary diversion.  Despite Williams blowing off US FWS, quietly behind the scenes, some are wasting resources seeking NJ DEP intervention on the same issue, even worse, via confidential communications with DEP Commissioner Martin. Tactically, this is just as bad as the FERC-ing off I've criticized.
Meanwhile, the cutting of trees is occurring within about 10 feet of a stream that its a tributary to Suckers Run – that issue is being ignored and could constitute a violation of NJ DEP riparian zone buffer and surface water quality standards. (Hint: read how NY State DEC denied a Clean Water Act certification as a result of similar adverse water quality impacts. Maybe Tom Gilbert of Rethink NJ, consultant Princeton Hydro, and local lawyers could read it and then act on it? Why are these killer regulatory issues being ignored, when they have defeated pipelines in neighboring states?)
I was at the site yesterday when the cutting began, and noticed that the company began to comply (but not completely) with soil erosion and sediment control requirements by installing a small section of stone and fabric, see: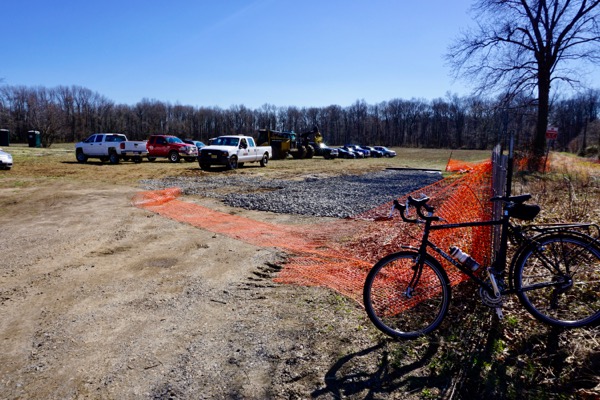 I went back to the site this morning and walked along the hedgerow and it sure looked like they were cutting trees and vegetation in forested wetlands – I don't know what disturbance the wetlands permits allowed, but that surely needs to be looked into from a compliance and enforcement perspective. Maybe these regulated features were not mapped?
I am calling DEP now about both the riparian zone and wetlands issues.
Activists have been present at the site continuously since Monday morning – opposition is building and there is a piece of land adjacent to the compressor station site that is owned by Chesterfield township that would make a great place to Occupy.
Just a suggestion.
[Update – I stopped by the site again about 4:30 pm and came upon another example that illustrates a total disregard for public safety by Williams.
A huge machine was cutting down trees in the county roadway right-of-way. Branches and chunks of trees were falling onto the shoulder and roadway. Cars were slowing down and swerving over the double line at 45+ mph speed zone.
But there were no traffic safety measures in place: no warning sign, no safety cones, no flag man, nothing.
We convinced the Chesterfield police to shut it down on that basis. ~~~ end update.]