Boie Hikes The Hoodoos
Harsh deserts w/blooming cactus – cool mountains
Parched rivers, lakes, & streams
Apologies to any readers that are still checking in for being off line for this long. And I still haven't posted promised photos from a month ago in Texas and New Mexico!
We're now in Moab Utah, at the tail end of our southwestern National Parks phase.
Since Sedona,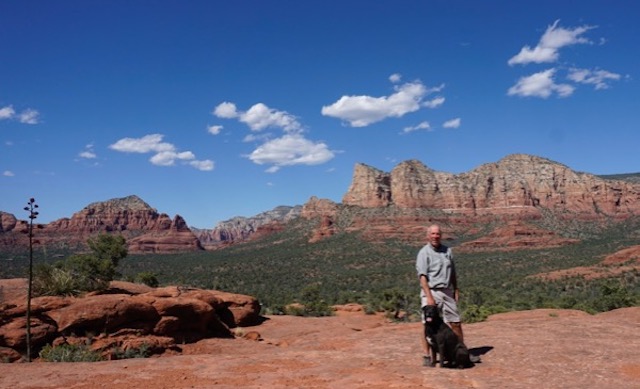 we've been in several national forests, Grand Canyon NP, Glen Canyon/Lake Powell NRA, Zion NP, Bryce Canyon NP, Capitol Reef NP.
We managed a short but difficult hike to the 3 mile point under the rim at Grand Canyon (6 miles, about 2,000 feet elevation, in 90+ degree heat plus altitude!). Everyone has seen many images of Grand Canyon far better than I can shoot, so here's my favorite:
We try to avoid the crowds, which is becoming more difficult as "the summer people" begin to arrive. The best part – and probably least visited place in Zion is Kolob Canyons, take a look:
Bryce Canyon is similarly spectacular and abundantly photographed – I have more dramatic and colorful shots, but here is one of my favorite little groove of trees:
In an attempt to replicate the wonderful Kolob Canyon experience, we had a scare in Capitol Reef
Long story short, in seeking to avoid the crowds, I misjudged a remote Forest Service road into a place called Cathedral Canyon in the northern part of the park. Got lost, got snowed on, camped at about 10,000 feet and got altitude sickness, and then had to drive over 30 miles on extremely harsh mountain and desert "roads" that inlaces looked like commercial for Jeep or Range Rover! Didn't think the van would make it:
We were able to sneak a hike in a 4 mile loop trail in Bryce Canyon – Swamp Canyon trail, that's the shot on top  – the NPS encourages folks to "Hike the Hoodoos":
My one complaint is with the very restrictive National Park Service policy on dogs (banned on trails and shuttle buses, which severely limits our enjoyment of the parks).
Today, we are resting in green spaces, grass and shade in a lovely Moab City park to recharge and let the weekend tourists dissipate before tackling Arches and Canyonlands NP's.
Here's some of the scenes in between the National Parks –
Glen Canyon – Lake Powell (yes, the Lake is being drained by proliferation of demand and over-consumption, evaporation, and climate change – but we had the beach all to ourselves!)
Desert in bloom (apparently the result of an unusually wet winter – don't ask me what they are!):
Tributary to the East Fork of the Virgin River (we dispersed camped in this spectacular canyon of a FS road for 4 nights! Not sure what causes the yellow/brown color of stream bed and there were severe erosion problems I am told was due to fire and recent storms):
We walked the stream for about a mile above our campsite and here's where the creek went dry:
BTW, the Virgin River is channelized as if flows through Zion NP – man made engineered flow through a National Park – not much different that east coast urban rivers! Look!
For the visitors to Zion, here's the natural condition: snow melt in a high mountain meadow, just above Cedar Breaks National Monument:
Navajo Lake, Dixie National Forest –  camped at a spectacular remote site for 4 nights. There was some snow in the mountains, but with snow melt almost complete, the lake level is very low :
Crossing the cool and high flowing Escalante River: (while other rivers and streams in the region are dry, farmers and ranchers are irrigating for hay!):
And, after this lengthy update – and I still haven't posted the Texas and New Mexico shots! –  we'll leave you for now with this bookstore visit: