Desert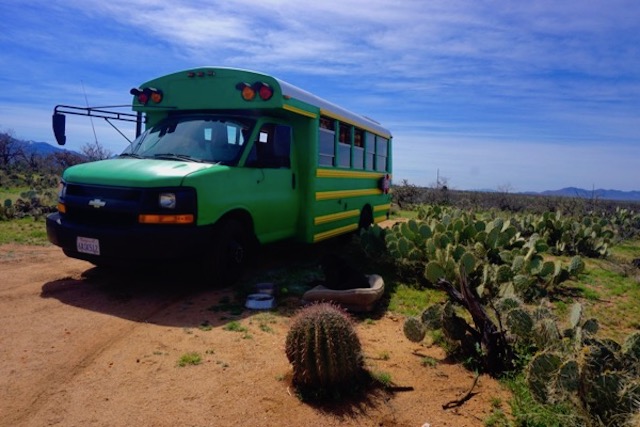 We're northeast of Tucson, somewhere near Oracle, Az – sunny and quite warm the last 2 days (75-80 degrees).
That sure beats the 10 degree nights and 10 inches of snow we got the week before in Bisbee, Az.
Just passed a sign for "Biosphere 2″ – sounds creepy to me.
Pretty harsh landscape – Bouy takes refuge in the shade of the bus.
We weren't here for half an hour before the crows checked us out. A pair circled just 30 feet overhead three times – so close their wings sounding "whoosh, whoosh, whoosh". Shortly after, the pair was joined by a third crow and they returned for two more circling rounds.
Lots of cactus hazards on the desert floor, he got several wicked thorns in his paws this morning. Pulling them out was painful and I got stuck and bleeding too.
The coyotes yipping at sunrise really set him off this morning. Of course, as soon as I opened the door, he bolted out after them. I thought he was going to get eaten alive by the pack. But he came back 15 minutes later, tongue hanging out and panting for water.
I'm reading "How The Canyon Became Grand" by Stephen Pyne – a cultural and intellectual history of the Grand Canyon.
I heard Pyne speak as a panelist at the Tucson Festival of Books last weekend. More on that in a subsequent post.
[Update: As we were enjoying the sunset, about 30 cows just wandered through. Bouy freaked out, of course. Lucky to get him back on the bus before harm was done.]