EPA Evades Questions On How To Respond To IG Report That Found EPA Failed To Regulate Toxic Air Pollution & Protect Public Health
EPA Statement Fails To Commit To Ratchet Down On Regulations Or Better Protect EJ Communities
A brief note to followup on the EPA Inspector General's Report that found major flaws in US EPA's regulatory programs of industrial toxic air polluters and failure to protect public health, particularly in environmental justice communities.
Among the many negative findings, the EPA IG Report identified Ashland Specialty Ingredients, a chemical manufacturer in Parlin NJ (EPA Region 2) as one of the worst facilities in the country (see Appendix C, which EPA actually tried to suppress – Ashland just one of 29 facilities):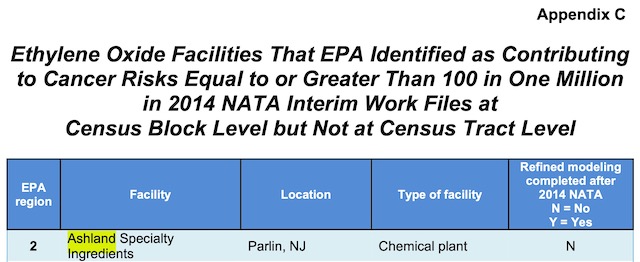 Because the Ashland facility is located in EPA Region 2, I contacted EPA Region 2 officials to ask how they planned to respond to the IG report.
My email questions to EPA (*)  followed up on a previous set of 4 questions I posed to EPA – posed before I was aware of the EPA IG Report – regarding what I viewed as a highly spun May 3 EPA press release another toxic polluter: "EPA Notifies Limetree Bay of Clean Air Act Violations". I asked the EPA Region 2 press office the following questions: (I combined the 2 individual emails' questions below – the first 4 are about Limetree refinery and the (*) is about the IG Report)
Hi Elias – a few questions:

1) does EPA have plans to ratchet down on the refinery's permitted VOC emissions, which look like they are at least 60 tons per year? Does EPA quantify total permitted VOC and HAP annual emissions? Can you cite that document?

2) does EPA have estimates of the greenhouse gas emissions from the refinery? I could not find them in the linked permit and enforcement documents.

3) Is the refinery subject to EPA clean air act regulation of greenhouse gas emissions? If so, what are the permit conditions?

4) did EPA apply any environmental justice related vulnerability or susceptibility analysis during the recent enforcement oversight of this refinery? If so, please explain and provide links to the methods and regulatory basis.

(*) And, I'd like your comment on the recent EPA IG Report, which documented unacceptable risks and targeted a facility in Parlin, NJ, Ashland Specialty Ingredients.

Thanks,

Bill Wolfe
Amazingly, the issues I raised in my questions about Limetree Bay and the Clean Air Act were very similar to the EPA IG Report findings (and gee whiz: EPA knew the IG Report was coming. Could EPA have issued the "favorable" Limetree press release to divert from the harshly critical IG Report? Ha! I've personally seen that many times while at DEP, and even worked on press statements. That's News Management 101!)
Despite the fact that my questions were specific to a Region 2 facility, EPA Region 2 referred my questions to EPA Headquarters – which told me that this was a hot political, policy, and regulatory topic taken out of the hands of the Regions. 
After a few days of delay and two followups requesting replies, here is EPA HQ complete response, for attribution "according to an EPA spokesperson":
EPA is committed to addressing ethylene oxide and chloroprene emissions from industrial sources of these potent chemicals. The Agency has set deadlines for completing a thorough review of its regulations that apply to industries that emit ethylene oxide or chloroprene, as required under the Clean Air Act. For each of these complex rules, the Agency will work to develop up-to-date, accurate information about emissions from the industries, share information with surrounding communities and seek public input during the rulemaking process. More broadly, as EPA noted to the Office of the Inspector General, the Agency is establishing a process as part of its Air Toxics Strategy to identify and effectively address emerging air toxics issues such as changes in health benchmarks, to help us determine whether changes to air toxics regulations are needed.
Notice that EPA's statement does not state how they will respond or make any specific commitments – it's all about process.
So, I sent the following comments to EPA, requesting clarification. Because EPA has not responded, I assume that my criticisms are valid:
Thank you – I will interpret that as follows:

1) no specific commitment to revise regulations, per IG recommendations

2) IG recommendation #3 remains "unresolved".

3) no comment on environmental justice findings or targeted concrete conrrrective actions

4) no consideration of cumulative impacts

5) IG Report was narrow in scope, but science and regulatory findings are systemic and nationwide in scope – while IG was reluctant to discuss issues beyond the scope, clearly EPA understands the broader issues. But no apparent plan of action to go beyond IG narrow scope.

Please let me know if I got anything wrong or if you would like to clarify my interpretation of your statement.

Wolfe
This evasion and lack of commitment is coming from a Biden EPA Administrator who was described by media as a champion of environmental justice.
Will Big Green, the EJ activists, and media hold  EPA Adminstrator Regan accountable?
[End Note: Because the Ashland Specialty Ingredients facility is also regulated by NJ DEP, I just submitted the following OPRA request to DEP:
I request the air pollution control, hazardous waste management, right to know (if applicable), TCPA (if applicable), and NJPDES permits for Ashland Specialty Ingredients facility in Parlin (Old Bridge) NJ.
We'll let you know what we find – my guess is that it will validate my prior criticisms of DEP's various regulatory and permit programs.