DEP Says Hudson Oil Shipment Risks "Not On DEP Radar"
Neither DEP nor State Office of Emergency Management are aware of shipments of over 1 billion gallons of oil down the Hudson River
Trenton — The Christie administration has posted a sprawling post-Sandy Hazard Mitigation Plan that conflicts with its own announced projects, ignores known threats, and contains numerous flaws, according to Public Employees for Environmental Responsibility (PEER). PEER is calling for legislative hearings on the plan, which was required as a prerequisite for significant federal infrastructure aid but was prepared by a private consultant with no outside review.  PEER, 3/20/14
[Update: 4/5/14 – another example of where our neighbors in NY are involved and the Christie Administration is not:
Gov. Andrew M. Cuomo nevertheless directed state agencies in late January to review their emergency and spill response plans and report back to him by the end of April. The state's top environmental and transportation officials met with their federal counterparts last week to discuss the issue.

But there remains considerable uncertainty about how authorities would respond to an accident or a spill in the Hudson River. The Coast Guard conducted a drill in New Windsor last November. The mock event involved the derailment of four train cars and a 50,000-gallon spill in the Hudson from a storage tank.

"We continue to look for ways to improve coordination and response with our federal and local partners and, as directed by Governor Cuomo in his recent executive order, are evaluating the state's spill prevention, response and inspection program for rail, ship and barge transportation of crude oil and other petroleum products," said Emily DeSantis, the Department of Environmental Conservation's spokeswoman.   ~~~  NY Times 2/27/14 – end update].
Scott Fallon of the Bergen Record has an important story about risks of new shipments of crude oil down the Hudson River, see:
Shockingly, DEP is quoted as saying that those risks are "not on DEP's radar":
"It hasn't been put on our radar by anyone," said Larry Ragonese, a spokesman for the Department of Environmental Protection. "We haven't had any real input."
That is shocking, because DEP regulates the NJ refineries that receive the oil shipments, and DEP has direct regulatory responsibility for those oil refineries and for protecting the Hudson River and surrounding NJ communities under numerous State environmental laws.
But, there is another place where those risks should be assessed and protective strategies put in place: The NJ Hazard Mitigation Plan.
That Plan has an entire Chapter 5.19 on risks from chemical and oil shipments, see: Risk Assessment – Hazardous Substances.
Here is what Chapter of the Plan says about oil shipments to NJ refineries – it says NOTHING about shipments down the Hudson River from North Dakota via Albany:
The cities of Linden and Elizabeth, located on New Jersey's highly industrialized northeast coast, are home to Conoco Phillips' Bayway Refinery (formerly owned by Exxon). The northernmost refinery on the east coast of the United States, Bayway processes 238,000 barrels (10 million gallons) of crude oil per day. The crude oil is brought in by tanker ships from the North Sea, Canada, and West Africa. Once processed, 145,000 barrels of gasoline and 110,000 barrels of distillates per day are transported to east coast customers via pipeline transport, barges, railcars, and tank trucks. In addition, a petrochemical plant produces lubricants and additives and a polypropylene plant produces over 775 million pounds per year of polypropylene (American Littoral Society 2013).
So neither DEP nor State Office of Emergency Management are aware of shipments of over 1 billion gallons of oil down the Hudson River?
Are you kidding me?
Or are they covering up that information?
NJ Assembly Speaker Prieto needs to get the Legislature involved immediately in oversight of the Christie Hazard Mitigation Plan, as we've called for.
Record story quotes Prieto supporting that:
After being informed by The Record about the shipments down the river, Assembly Speaker Vincent Prieto, D-Secaucus, last week called on Governor Christie to conduct a comprehensive review of the state's readiness to handle spills and emergencies. "We've seen several recent examples of the damage that can be caused by oil spills," said Prieto, whose district includes part of the riverfront. "Nobody wants to see that repeated along the Hudson."
Here is the history of spills and accidents Prieto correctly refers to, ironically from the Christie Hazard Plan: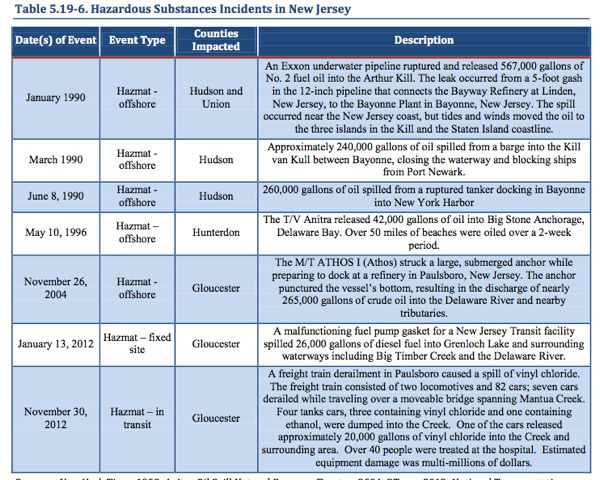 Despite documenting hundreds of chemical and oil spills, there Christie Plan downplays and rates those risks as "low"
Hazardous Substances Offshore

Significant hazardous substances occurring offshore are rather rare in New Jersey. As discussed in the Previous Occurrences section, several incidents have occurred over the past couple decades. While these incidents have been rather rare, New Jersey's port systems and waterways are vast and the possibility for an incident does exist. Given the factors noted, past occurrences, and the State's water network, the probability for future incidents in a given year is low. 
To paraphrase Donald Rumsfeld: these risks are an unknown unknowns! A low risk was found, despite this acknowledgment:
Hazardous Substances Offshore

Aside from the general impacts noted with the fixed-site hazard, offshore incidents present unique challenges and secondary impacts. The secondary impacts associated with offshore incidents were witnessed in 2010 during the Deepwater Horizon spill occurring in the Gulf of Mexico. The incident had tremendous impacts on the environment, wildlife, and the economy. A significant incident would have a devastating impact on all of these sectors. A significant portion New Jersey's economy is reliant on tourism, as well as near-shore and off- shore fisheries, thus an impact to the shore would be devastating.
But certain risks are ignored completely, so I guess we should not be surprised by the failure to consider Hudson River oil shipments: (curious indeed, because weren't those refineries and oil and gas pipelines significantly impacted by Sandy?)
Climate Change Impacts

Hazardous substance incidents are non-natural incidents; therefore, there are no implications for impacts from climate change.