Complaint Alleges Ethical Lapse During Recusal of Pinelands Commissioner Ed Lloyd
Was Pinelands Lawyer Following Orders From Gov. Christie's Office?
[Update below]
A south jersey resident filed an "attorney ethics grievance" complaint against Pinelands Commission attorney Stacey Roth.
The complaint was filed on March 2 by Dr. Steven Fenichel of Ocean City. [The complaint was filed with the Office of Attorney Ethics:
The Office of Attorney Ethics acts as the investigative and prosecutorial arm of the Supreme Court of New Jersey in discharging the Court's constitutional responsibility to supervise and discipline New Jersey attorneys.]
The complaint alleges that Roth acted unethically during her involvement in the controversial forced recusal of Pinelands Commissioner Ed Lloyd, who also is a Professor of Law at Columbia Law School.
There are conflicting statements and news reports on why and how Commissioner Lloyd was forced to recuse himself from participating in the review of the controversial South Jersey Gas Co. proposed gas pipeline.
As far as I know, aside from Lloyd's written statement, which he read into the public record during a Pinelands Commission meeting, there are no official documents on the matter. I find that shocking and totally unacceptable that a matter of such significance was handled by State officials and Ms. Roth on an oral basis.
Of particular note is that Ms. Roth is quoted by the New York Times as advising Mr. Lloyd that she was just following orders from Governor Christie's Office.
Lloyd's claim is lent credence by the State Ethics Commission but – after the Times story appeared -subsequently denied by Executive Director Wittenberg in an attack on Lloyd:(ThinkProgress story)
Nancy Wittenberg, Executive Director of the Pinelands Commission and a Christie appointee, disputes Lloyd's version of events. "We never spoke to the governor's office on this," she told ThinkProgress. "That was a quote from Ed, and maybe he didn't remember it right, but it's not true."
In other words, we have a very serious matter on our hands, involving Gov. Christie's Office, the Attorney General's Office, the State Ethics Commission, and the reputations of a Pinelands Commissioner (an attorney and law school professor) and the Commission's attorney.
Dr. Fenichel states: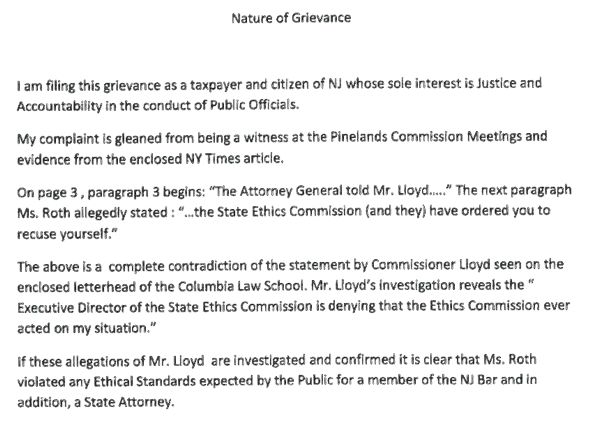 [*Note: Here is the Lloyd statement referenced above. This was delivered to the Pinelands Commission by Lloyd. This is the same version that Dr. Fenichel references on Columbia Law School letterhead.]
The New York Times story referenced in the complaint focused on the Lloyd recusal matter and it exposed contradictions between Lloyd's statement, Roth's statement, and the statement of the Executive Director of the State Ethics Commission.
Prior to the NY Times coverage, I attended the Pinelands Commission meeting and wrote about the Lloyd recusal issue at the time occurred in some detail, see:  Christie Administration Plays Ugly Hardball In Pinelands Pipeline Controversy -
The Lloyd recusal story got NJ media coverage as well, see:
I later wrote about the issue again in this post: (NY Times reporting is in italics)
as documented by the NY Times:

"The deputy attorney general told Mr. Lloyd that he could appeal to the Pinelands Commission's ethics lawyer. Mr. Lloyd was working on that appeal when his phone rang. It was the ethics officer.

"She said, 'Don't shoot the messenger, but on orders of the governor's office, I went to the State Ethics Commission and they have ordered you to recuse yourself.'
But it turns out that the Roth apparently lied – the State Ethics Commission did NOT issue the Recusal Order:
"From here, the case grows murkier still. On Wednesday I called the attorney general's office, and a spokesman, Leland Moore, sent an email reply. We advised Mr. Lloyd to recuse himself, he noted, and recommended that he consult with the State Ethics Commission.

The Ethics Commission, Mr. Moore noted, "apparently made the same determination."

I called the Ethics Commission, and its executive director said this was not true. "We haven't made such a determination," said Peter Tober, the executive director. "It came from the attorney general or the Pinelands ethics officer."
So, perhaps the legal ethics complaint process will reveal the real story of exactly what went on.
It should be very interesting – we'll keep you posted.
[end note: and this controversy has Wolff & Samson involvement as well, see this and this:
Influence Pipeline: Christie Administration Tried To Jam Through Project To Benefit Top Operative, Officials Allege
[Update: In addition to the Lloyd recusal matter, I have questioned Ms. Roth's judgement, objectivity and independence, for example, several times she has made public statements that suggest a strong pro SJG bias. For details, see this. -
Roth also was caught on tape blurting out an unsupported legal opinion that the Commission has no jurisdiction regarding climate change impacts - end update].