Gov. Christie Brags About Dismantling NJ's Climate and Environmental Protections
This Was No "Lie" or Campaign "Pivot"
Don't Say You Weren't Warned
But Not By NJ Press Corps
"For immediate relief from regulatory burdens, State agencies shall ... (Gov. Christie, Executive Order #2, 1/20/10

"What we call for is common sense regulation, we don't call for less regulation, we call for common sense regulation." ~~~ Gov. Chris Christie, Trenton, NJ 6/17/10 WABC TV News

"I spent the last 5 years dismanting the overreach that she [NJ DEP Commissioner Lisa Jackson] did in New Jersey and our environmental protection area.  ~~~~ Gov. Chris Christie, Iowa, 3/7/15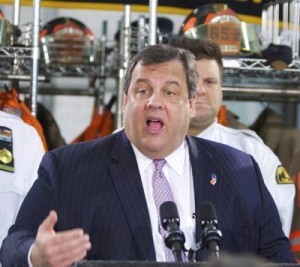 Last week, when Gov. Christie told Iowa Republican primary voters that he slashed Planned Parenthood funding because he was ideologically pro-life, NJ media went into full blown blistering attack mode.
The Star Ledger editorial board, in a blaring headline used the "L" word and flat out called Christie a liar. They wrote:
It was interesting to hear Gov. Chris Christie finally admit he was flat-out lying about his reasons for vetoing funding to Planned Parenthood, as many charged at the time. It happened when he was bragging about his pro-life credentials at the annual CPAC conference attended by conservatives, a chance to woo the party's base.
WNYC, NJ Spotlight, and reporter Matt Katz toned that L word down somewhat but still, they dedicated a radio broadcast and highlighted the Governor's lies, but they called them a "pivot"
But where is the NJ media's expression of outrage when Gov. Christie goes full out on offense and openly and aggressively brags to Iowa primary voters about the fact that he is proud that he has spent the last five years "dismantling" climate change and environmental protections?
They can't do the Claude Rains "I'm shocked" he said that, because Christie announced that that was his policy goal in the first hour of the first day of his Administration, when he issued 4 sweeping Executive Orders that attacked and rolled back environmental protections.
Funny, the NJ press corps NEVER ONCE REPORTED ON THAT REGULATORY POLICY. NOT ONCE.
Repeat: Governor Christie issued 4 unprecedented, sweeping, Executive Orders – including a moratorium on regulations – targeting and rolling back NJ's State legacy of environmental and public health protections – in the first hour of his first day in office – and the NJ press corps never reported that story. Just part of a remarkable across the board abdication.
They also never reported on the numerous policy, institutional, program, and personnel  dismantlings that went on within DEP – particularly climate policy.
We warned about the climate change programs and how they made Sandy worse (see the investigative documentary series  "Years of Living Dangerously" – Episode 5).
That's why they can't express faux outrage and shock now – like the fake outrage they expressed over the Planned Parenthood remarks.
They were complicit cowards in their silence.
The very little reporting they did do on environmental policy stories was always presented as a he said/she said – typically with a red meat sound bite by Jeff Tittel.
And those stories were NEVER reported as a conscious Christie policy and intentional strategy to "dismantle" climate and environmental protections for policy reasons.
We repeatedly warned you even before the election, where I said this about his campaign platform:
The fact that none are offered in the Christie plan reveals that this is just a DEP dismantling exercise.
I warned before Christie was sworn in as Gov., based on his comments during the 2009 election, with this post, where Christie pledged to attack Obama EPA regulations (watch the YouTube video).
We reported the Christie Executive Orders at the time he issued them – as well as all facets of the "dismantling"  he now brags about in HUNDREDS of posts over the last 5 years.
Very few stories were ever written by NJ reporters about any of that and there were even fewer editorials expressing outrage.
There was one NY reporter, a TV reporter – the only reporter I am aware of that EVER asked Christie a direct question about Executive Order  #2 "regulatory relief" policy – ,Jim Hoffer from WABC TV news, who asked Christie a question about Executive Order #2 "regulatory relief" policy – you can watch the Governor flat out lie about that here – ironically it was about the Bayway refinery: ( – at time 2:28 – transcript)
Wolfe says the massive spill in the gulf occurred because B-P cut corners on safety while the regulators looked the other way. Wolfe says Gov. Christie is making the same mistake, by issuing executive orders.

Bill Wolfe:  – "This executive order will put into force of law, the exact same policies that led to the disaster in the Gulf."

Eyewitness News Reporter Jim Hoffer: – "You're saying that this executive order will bring the polluters and government to an even cozier kind of relationship?"

Wolfe: "Right, it will make government facilitate, not regulate, but actually promote the interest of the polluters, protect the polluters, not the people of the state."

Governor Christie, who months ago called for a ban on all oil and gas drilling off the Jersey coast, disputes claims he's weakening the state's environmental oversight.

Governor Christie: "There's none of that stuff going on. I don't know where you're getting that from but none of that is going on." 

Hoffer: "In your executive orders when you call for less regulation?" 

Governor Christie: "No, what we call for is common sense regulation, we don't call for less regulation, we call for common sense regulation."
So, for the record, here is what Gov. Christie just said in Iowa, which is nothing different than he said before the 2009 reelection and did throughout his administration (you can watch here):
The EPA Administrator in the Obama Administration who started this entire power grab  – a woman named Lisa Jackson – where does she come from? New Jersey.

She was Jon Corzine's environmental protection Commissioner when Barack Obama recruited her to come to Washington D.C.

I spent the last 5 years dismanting the overreach that she did in New Jersey and our environmental protection area.

So, I understand what this administration's attitude is, because I've had a first hand look.

So, we're doing exactly what we need to do – and we need to make sure we do that at the EPA.
Where's the outrage over that?