Prescott National Forest – A Wildland – Urban Interface
US Forest Service Does Its Part In The War On The Poor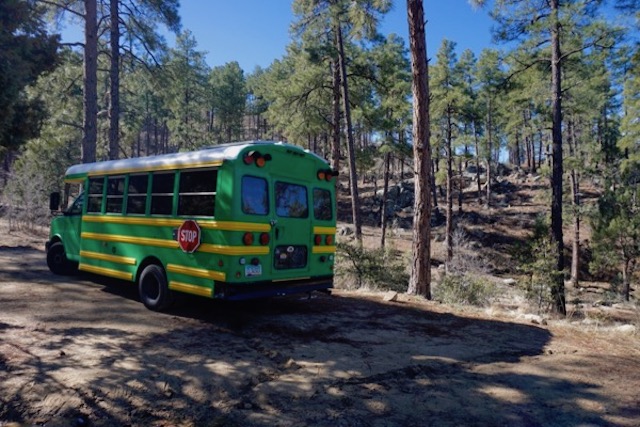 Late Wednesday afternoon, on a suggestion from a local hiker, we arrived in Prescott National Forest.
It's nice to be back in the forest, after months in the desert and along the pacific coast.
It had rained hard on Tuesday night and there were patches of snow along the road and packed in the mountains. The forest service road was muddy and getting steep.
Because I've already learned that the bus is not good in the mud and as it was getting dark, we pulled off the road and parked in what was clearly previously used as a campsite (e.g. a large parking area and fire ring). I then walked the dog a mile or so to find a better campsite. About 1/4 mile down the road, there were several designated dispersed campsites, but they were littered with trash.
No thanks. We went back to the bus for the night.
We've been on the road two years now, about a third of that time spent dispersed camping in dozens of National forests. During that entire time, we never once saw a US Forest Service Ranger in the forest.
So we were surprised to be awakened at the crack of dawn Thursday morning by a US Forest Ranger.
He advised that I was not in a designated campsite and therefore illegally camped.
I responded that I had been camping for 2 years in US Forests and thought that the dispersed camping rules prohibited off-road disturbance of vegetation and merely restricted camping to sites where there had been previous disturbance – for a maximum of 14-21 days, depending on the forest (a time restriction that rarely is enforced).
The Ranger advised that I was in a "Wildland-Urban Interface" (WUI) where dispersed camping was restricted to designated campsites, for a maximum of 7 nights during a 30 day period.
He said that USFS makes the WUI designation based on proximity to dense population, where heavy demand and heavy use created "impacts".
Curiously, he seemed to ignore the "impacts" of the clearcuts and forest thinning projects nearby as well as the water quality impacts of road construction and maintenance. I also noted on my walk the night before that "designated dispersed campsites" were less than 25 feet from sensitive headwater streams!
I guess those "impacts" – created by the US Forest Service – don't count.
The Ranger then asked for my drivers license and said he would issue me a warning instead of a ticket. He gave me a brochure on the Prescott NF WUI program.
While, based on the science, it seems that USFS is most legitimately concerned about wildfire risks to adjacent urban areas, in the Prescott WUI I think other non-scientific social and political factors are motivating the dispersed camping restrictions.
Specifically, I saw a lot of really nice houses along the ridges surrounding the forest.
Like I've seen across the country, I also saw a lot of homeless people living in cars, vans, and RV's.
The Prescott WUI brochure says nothing about fire risks to neighbors, but does say this: (emphases mine)
The Prescott Basin is often referred to as a wild land-urban interface (WUI) are because the forested public lands are adjacent to the urbanized areas of the greater Prescott community.

WUI areas typically experience greater human impacts due to increased visitor use and demand for recreation than other National Forest System lands. This is why dispersed camping is only permitted in designated dispersed camping areas for 7 days.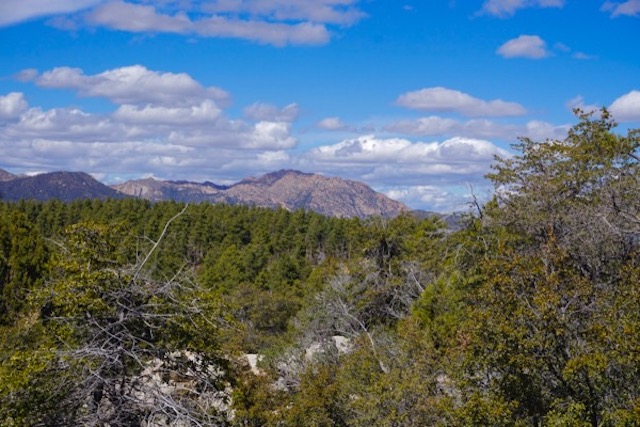 Of course I could be wrong, but my guess is that the wealthy owners of those homes on the ridges have political clout and really hate seeing the riffraff driving by and camping in "their backyard" view-shed.
My guess is that the USFS WUI designation is in response to wealthy neighbor complaints seeking to keep these homeless people out of their "backyards".
If so, its just one more example of the war on the poor and homeless.