Baked In Bouse (Arizona)
The last 2 years, I left the desert too early, and was hit by snow and cold bad weather in the mountains.
This year, it seems that I left too late and was blasted by desert heat.
Heading north-west out of the Sonoran desert, I should have known that the Mojave would be even more severe.
Along the way, I passed the absurd canal of the Central Arizona Project ridiculed by perhaps one of the best western books ever, "Cadillac Desert".
So obviously I would have stopped for more revealing photos, but there was an Arizona State Patrol car nearby.
So, here we are, baked out in Bouse Arizona! (pronounced like "house", and definitely not Bauhaus! hahaha!)
(another desert place that would never have been settled as a town without federal military support).
Climate chaos indeed! Yesterday was 88 degrees, today just as bad (it hit 94 high). (Sat. forecast is for a record high 97 – but it "only" hit 92.)
We head for the mountains to Pacific coast as soon as possible – but with gas $5+ a gallon, our choices are limited.
I feel really bad for the dog, who can't cool down!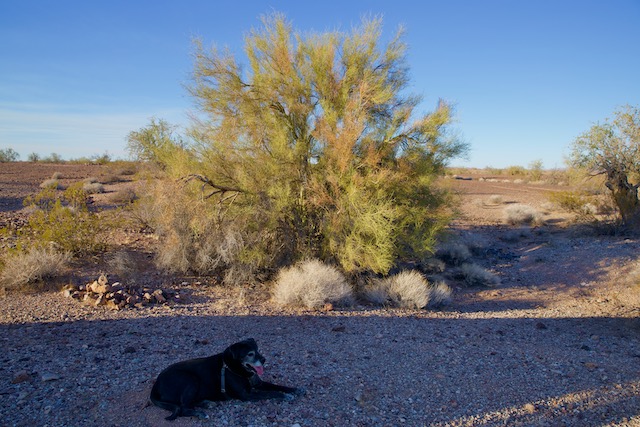 Bouy lies in the shade of the bus. Even at 5:45 pm, it's still way too hot!