Anarchy In The Pines
Illegal Off Road Vehicles Are Wantonly Destroying Incredible Ecosystems
Christie DEP Bungling Triggers Backlash and Full Retreat on Road Restrictions
Pinelands Commission Must Act To Close Roads & Protect What's Left From Rampant Irreversible Abuse
I've not been a big Pinelands explorer and have little field knowledge of the place. So, as I heard the debate emerge on the DEP's "Motorized Access Plan", I was not aware of what was going on and had been going on for a long time.
That changed recently when I heard Emile Devito testify to the Commission that he had documented incredible damage and that more than 30% of meadows he sampled had been destroyed by "the mudders". Fred Akers had described the Commission's regulatory powers to designate roads in the CMP that are not suitable and should be closed, a power that had been ignored by both the DEP and the Pinelands Commission (NJAC 7:50-6.143(a)3.):
The Commission shall from time to time designate areas which are inappropriate for use of motor vehicles. Such designation shall be based upon the following considerations and upon consultation with the New Jersey Department of Environmental Protection and other interested persons: (hit link to read criteria):
So, when I got home I decided to look into the issue – for good info see PPA ORV webpage and "Pine Barrens Under Siege" website.
A closer reading of the CMP regulations revealed that not only had the Pinelands Commission failed to use its power to designate areas (not just roads and not just in Wharton State Forest, but throughout the Pinelands) which are inappropriate for use of motor vehicles, but that the CMP flat out prohibits motorized vehicles on public land for recreational purposes, unless those lands were expressly formally designated by State or local governments prior to August 8, 1980:
No motor vehicle other than fire, police or emergency vehicles or those vehicles used for the administration or maintenance of any public land shall be operated upon publicly owned land within the Pinelands. Other motor vehicles may operate on public lands for recreational purposes on public highways and areas on land designated prior to August 8, 1980 for such use by state and local governmental entities until designated as inappropriate for such use under (a)3 below. (note: (a)3 is above)
Holy smokes, roads and lands were presumptively closed. And the expectation was that the Pinelands Commission would eliminate even those roads and lands, revoking some of those areas/roads that were designated! (i.e. vehicles "may operate" … "until designated as inappropriate")
The debate had been completely mis-framed: the burden was on the off road vehicle recreation community to prove that roads and lands had been designated prior to 1980, not just used for recreational purposes! The Commission was expected to designate inappropriate roads and areas!
Subsequently, at the next Commission meeting, DEP Assistant Commissioner Boornazian surprisingly appeared before the Pinelands Commission to explain what he called DEP's "missteps" and poor communications and outreach efforts on the Motorized Access Plan (MAP).
Not surprisingly, when I looked into DEP's MAP initiative, I noticed that DEP announced the initiative as an edict and virtually a done deal via an August 4, 2015 press release:
The Park Service expects to begin implementing the plan – the first of its kind in the state – by late summer.
That just shows a stunning incompetence – Commissioner "Customer Service" Martin fails to understand that DEP is not a corporation and he is not a CEO.
Not surprisingly, after strong pushback by the off road recreational community, DEP established the same "by invitation only" Stakeholder process – which excludes lots of critics.
Those fatal flaws were compounded by the fact that DEP held Stakeholder meetings after the fact, and with individual groups one at a time – which fosters mistrust and suspicion – instead of bringing each group together in one public meeting so that they can understand each others' concerns and begin to develop baseline respect, in the spirit of democratic dialogue.
That public dialogue at a public hearing did not happen until November, well after bad blood had coagulated, trust was destroyed and battle lines drawn.
*[Note: Trust was destroyed with the help of DEP and PPA staffers who, according to emails provide to me, were discussing the MAP initiative in June, well prior to its public announcement.]
The off road recreation community showed up in numbers and spoke angrily at that Pinelands Commission meeting – apparently they were tipped off to Boornazian's unannounced appearance, which was not on the meeting agenda, by the DEP.
Listening to that debate and seeing how the DEP had surrendered and backed away from MAP – which made the problem even worse by essentially eliminating any road closures – made it obvious, after the pipeline debacles and soccer field compromise, that yet another attack on basic Pinelands regulatory protections was underway. Another well organized and expanding political and destructive threat had emerged.
That led to discussions with Jason Howell of PPA, who offered to take me on a tour of some of the 150+ damaged sites he's inventoried. Some of the destruction I saw below.
Here is what Emile DeVito sought to protect – incredible pristine meadows, an iconic landscape of the Pines: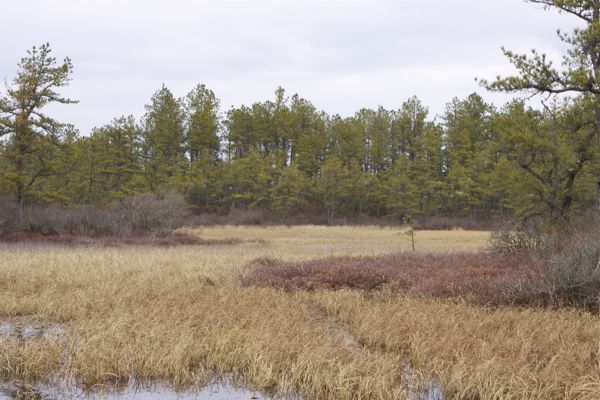 Here's what the "mudders" have done to those meadows, at a place called "Quarter Mile" – natural vegetation, habitat, and biota totally destroyed:
Here are more damaged sites – erosion to roads, forcing "go arounds" into the woods –
Some roads that DEP has allowed to remain open are flowing streams –
Unique geological features are being destroyed –
River banks and riparian vegetation and habitat wiped out –
Ponds and wetlands obliterated of all life and turned into lifeless mud holes –
Toxic pollutants introduced into pristine waters – oil sheen:
Forests converted to mudholes –
Here's what it should look like – Beaver Pond